I'm Daniel Graves, your local Stillwater Realtor®, here to guide you through a delightful exploration of the Stillwater, MN real estate scene, with a special spotlight on the "Stillwater, MN Real Estate Market Update" for September 2023! Whether you're a seasoned homeowner, a first-time buyer, a curious community member, or considering a move to our charming town, this update has something for everyone. Let's dive into the key trends, statistics, and insights, all shared with clarity and a dash of fun, to explore what defined Stillwater's real estate landscape during this engaging month.
Stillwater, MN 55082 Housing Market: A Friendly Overview
Imagine the Stillwater MN real estate market in September 2023 as a bustling town fair. Homes of various shapes and sizes, with a median sold price (think of it as the ticket price to your dream home) of $560,000, showcased a lively 30.23% jump from the previous month. But what does this all mean in simple terms? Let's dive into some key points, with all the fun and none of the fuss!
Easy-Peasy Insights
Median Estimated Property Value: Envision this as the average price tag on homes in Stillwater, MN, which was $471,650. A tiny dip (-1.3%) from last month, but overall, holding steady!
New Listings: Picture 58 new homes popping up on the block, with an average asking price of $499,425. That's a 24.9% uptick from the previous month!
Active Listings: 82 homes were up for grabs, each waving a price tag averaging $578,450, ready to welcome new owners.
New Pending Listings: 57 homes found potential new owners, with deals in the works, at an average of $405,000.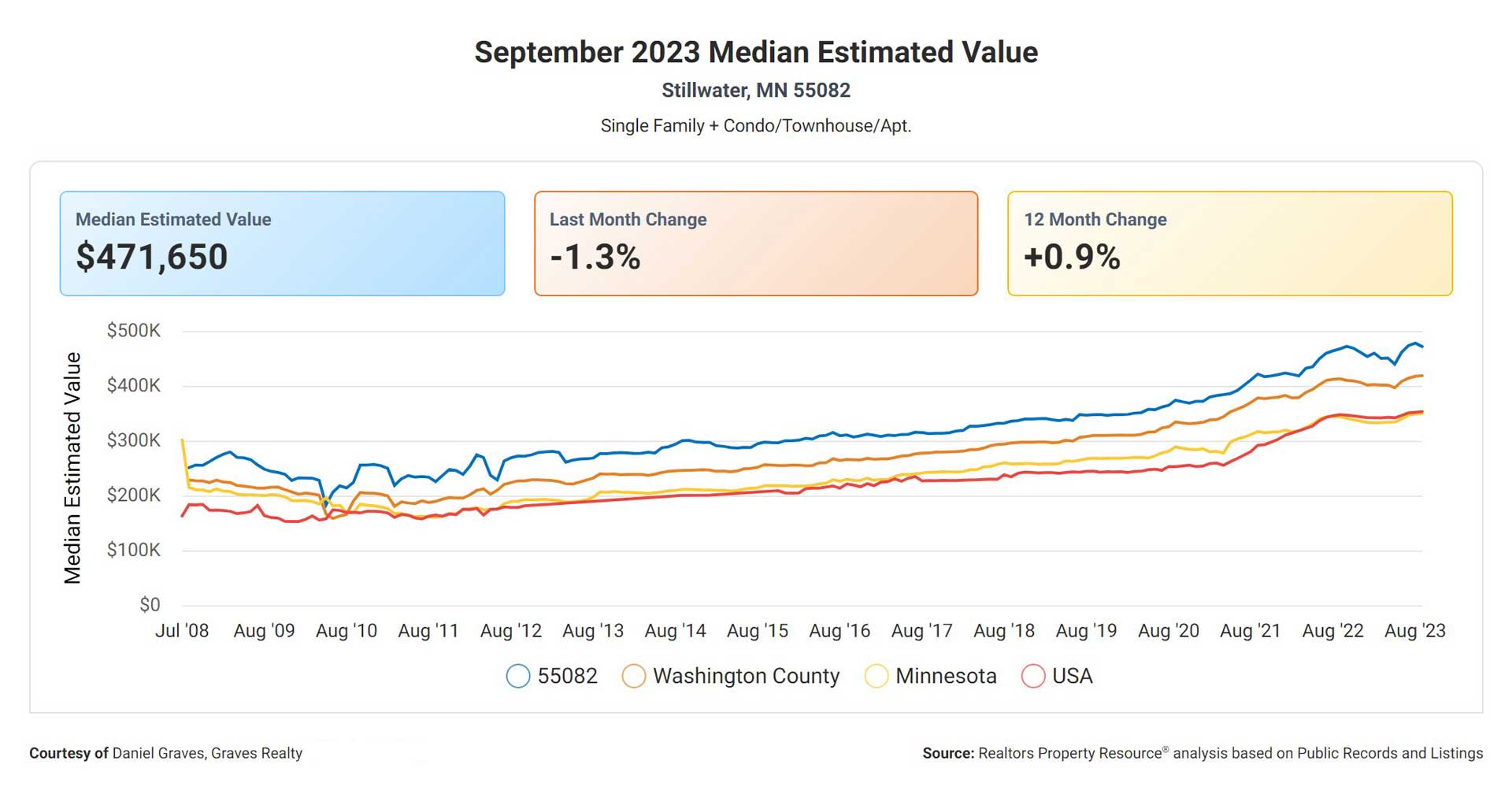 Meet Daniel Graves: Your Stillwater MN Real Estate Guide
Embarking on a real estate journey in Stillwater, MN? Allow Daniel Graves to be your trusty guide! With a treasure trove of experience and a heart full of dedication to the Stillwater community, I'm here to help you navigate through your real estate adventures, whether you're buying, selling, or simply exploring. Your dreams are my mission, and together, we'll turn them into reality! Feel free to reach out anytime – I'm here to assist you!
Conclusion
The Stillwater, MN 55082 real estate market in September 2023 was a vibrant spectacle of opportunities and adventures for buyers and sellers alike. With homes finding new owners and new listings popping up, the market was a lively scene to behold. Whether you're dreaming of a new home, planning to sell, or just enjoying the view, Daniel Graves is here to help you navigate through the enchanting world of Stillwater MN real estate, making every step of the journey a breeze!
FAQs: Curiosity Satisfied
Is it a good time to buy or sell properties in Stillwater, MN 55082 in September 2023? A fabulous question! With prices on the rise, sellers might find joy, while buyers might want to explore their options with a keen eye!
What are the current average home prices in Stillwater? The median sold price was a sparkling $560,000 in September 2023. A treasure waiting to be discovered!
Note: Your real estate journey is unique, and Daniel Graves is here to guide you with personalized advice and strategies tailored just for you in the Stillwater, MN real estate market!
Data Source: Realtors Property Resource®